I don't think we realized just how much time we would spend travelling to Thailand when we first booked our trip. We left for the train station around 7pm PST on Thursday and didn't get to Bangkok around 9:30pm local time (15 hours ahead) on Saturday. So if we do the math and factor in the timezone change it's about 35 hours of straight travelling. What took so long!? We'll let's break it down…
Step 1: Train from San Diego to LA Train Station (2 hours)
Step 2: Shuttle from LA Train Station to LAX Airport (45 minutes)
It was a short ride but we almost missed it. The LAX shuttle bus runs every 30 minutes. We were sitting in the bus area expecting to see the bus to LAX with 10 minutes till the bus leaves only to find out our bus is on the complete other side of the LA train station. After 9 minutes of speed walking and a little bit of jogging we found our bus and hopped on.
Step 3: Flight from LAX Airport to Bejieng, China (13 HOURS!)
Holy !@#$, what a long flight that was. Our flight left LAX around 12:45am and headed for Beijing, China. The good news was that Steve and I were both sitting in an exit row and had a lot of leg room. The bad news was that we were sitting in different rows. We slept the first 8-9 hours of the flight. The neck pillow is one of the best investments I've made for the trip seeing as it's the first time I've ever been able to sleep on an airplane.
Step 4: Layover in Beijing (8 Hours)
I guess getting cheap flights comes at a cost, and our cost was an 8 hour layover at the Beijing airport. First off, we arrived in Beijing at 6:30am and it was FREEZING. We were dressed for the warm weather of Thailand so the icy cold weather of Beijing came as an unpleasant surprise.
For those who have never visited China which is probably everyone reading this, it's kinda creepy. They have health inspection checkpoints where a weird machine reads your body temperature as you walk through to see if you're sick or not. I would've taken a picture but there were signs specifically staying that picture weren't allowed….again, creepy.
The airport was HUGE. We spent most of our time at the airport checking out the shops, restaurants, and getting an overpriced  massage. We also played games on our phones/laptops to pass the time…let's just say I'm really good at Hearts now.
Step 5: Flight from Beijing to Bangkok (5 hours)
After the 8 hour layover, the 5 hour plane ride seemed like an eternity. I wasn't able to sleep but Steve found a way to pass out relatively quickly…
Step 6: Go through customs at Bangkok (1 hour)
Not much to say here…just a long line of tourists looking to get into Bangkok. After an hour of waiting we passed through customs and were officially in Bangkok.
Step 7: Cab from Bangkok airport to hotel (45 minutes)
Happiest cab ride ever. After 30+ hours of travelling we were finally able to see the city of Bangkok. It was night time but we could still see all the buildings in downtown Bangkok. I wish the internet wasn't so slow so I could upload a short video of us in the cab…oh well. After 45 minutes seeing Thailand for the first time we arrived at our hotel, the Majestic Grande, at 10:30pm (Bangkok time).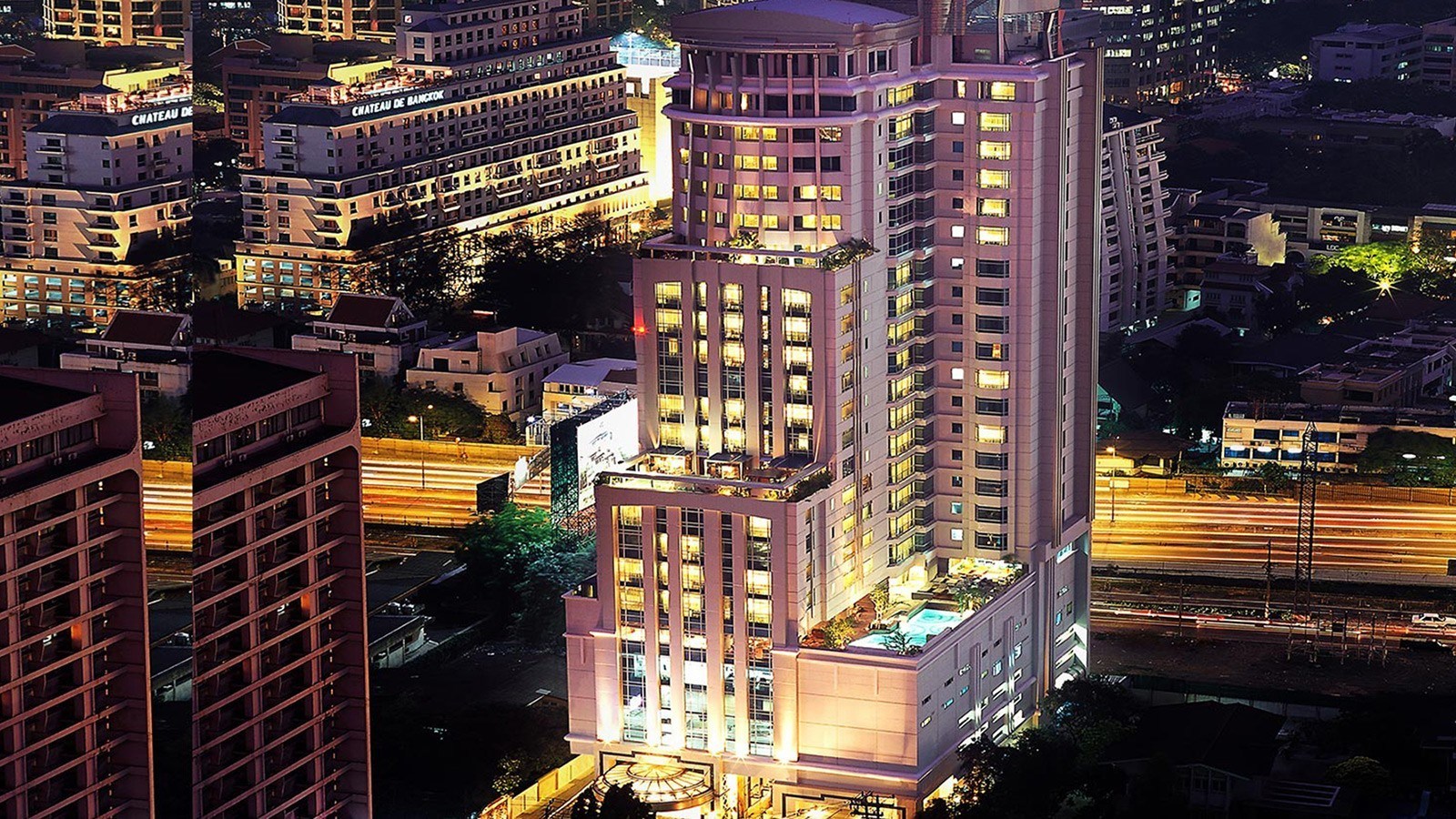 Even though we were dead tired, we got a second wind and headed out to explore the streets for a few hours. What was the first thing we did?
Massage!
After 35 hours of traveling, a true Thai massage sounded (and was) pretty awesome. We went to the first massage place we could find which turned out to be a mistake. It has to be one of the most ghetto massage spots in Bangkok.  As Steve says, "a true hole in a wall that doubles as living quarters." We almost stepped on a few cockroaches on our way over which probably should've been our first warning sign.
It was one small room with 4 small cheap mattresses side by side only separated by thin curtains. At the beginning of the massage they put a stereo from the 1980's by our feet that played Thai music. The massage was pretty good, but being as out of it as we were any massage would probably have seemed pretty good.
The massage woman had to be around 50 years old and probably weighed as much as Steve and I combined. The massage was going well until I was offered a "happy ending" (yes the rumors are true). As tempting as it was with my buddy Steve 2 feet away and separated by a cloth sheet, I happily declined (and of course having a loving girlfriend back home).
First Night on the Town
After our "massage" we walked around Sukhumvit Soi 4 which had dozens of bars. The bars were mostly filled with male travelers and Thai? girls. The girls were very aggressive and it seemed like most of the guys were coupled off with the girls…or so we thought.
It wasn't until a few hours later we ran into some expats from Europe who have been living in Thailand for years. They explained how we were in one of the biggest prostitution areas in Thailand the world.
Whoops?
Earlier we were trying to figure out which of the girls were normal Thai locals looking to party and which were hookers. The joke was on us, they were ALL hookers.
Despite an awkward massage, 100's of prostitutes, and dozens of lady boys we had a fun few hours seeing the streets of Bangkok and having a few drinks. We we're spent and headed back to the hotel where we passed out right away.
More to come!